Veal with San Simón da Costa cheese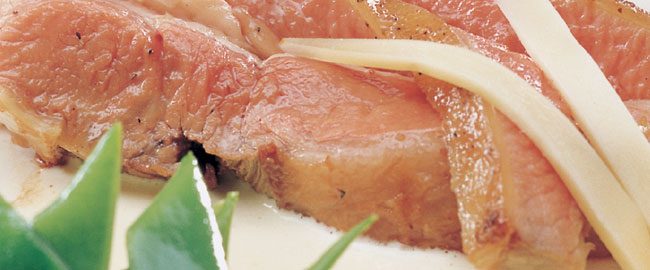 Enjoy two of the great Galician products. Galician Veal and San Simón da Costa Fontelas cheese.
Preparación/Preparation

10 min

Cocinar/Cociñar/Cook

1 hr 15 min

Total

1 hr 25 min
Ingredientes/Ingredentes/Ingredients
Ingredients
- 1.200 g de Galician Veal chest without bones.
- 2 dl of virgin extra olive oil
- 2 shallots.
- 2 carrots.
- 2 turnips.
- 1 bay leaf.
- 4 dl of cream.
- 150 g of cheese (D.O.P. San Simón da Costa).
- 2 dl de white wine(D.O. Ribeiro).
- salt.
- black pepper.
Gasnish
- 2 carrots.
- 400 g of green beans.
- 4 potatoes.
- 2 turnips.
Pasos/Steps
1
Season the meat on both sides.
2
Chop the vegetables into squares of approximately 2 cm.
3
Brown the meat in a kettle and incorporate the vegetables with the wine and 2 dl of water, roast in the oven for approximately half an hour
at 180º C.
For the sauce
4
Heat the cream until it boils and incorporate the cheese over the cream and let it thicken, season with salt and pepper.
5
Cut the vegetables into sticks and cook in boiling water flavored with a little salt and oil.